Rocket Slime 3DS Translation Beta 1 Release
Rocket Slime 3DS Translation Beta 1 Release

---
Finally after all this time the translation for Slime Mori Mori Dragon Quest 3: Daikaizoku to Shippo Dan is released…mostly!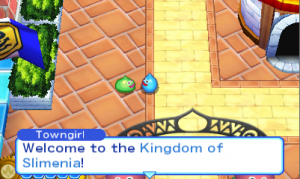 Good news and some not-so-good news:
Good news is that the patch released right now is mostly done with the game. All images, NPC text, and menus are translated and should be very playable. Bad news is that this isn't the final version and there's still more to be released. Some in-game text may appear to go off of the screen or some items or quests might have some random not English words in them.
However! Updates should not take nearly as long as it took for the this initial patch! The game is fully playable and is very enjoyable to play as-is.
Visit the Rocket Slime 3DS project page for more detailed game information!
---
Download & Installation
Visit: Downloads – Rocket Slime 3DS